DECEMBER 2013 CHALLENGE
WORLD AIDS DAY, DECEMBER 1st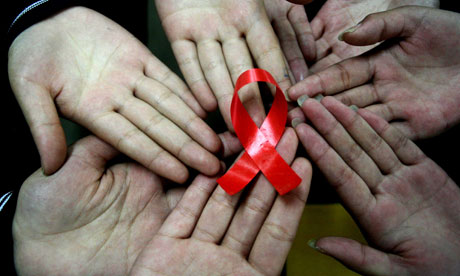 A simple red ribbon is one of the most widely recognized symbols of HIV and AIDS and the people who live with these conditions. The symbol was presented by the Visual AIDS Artists Caucus in 1991. The individuals in this group wished to remain anonymous, keep the image copyright free and create a symbol to raise consciousness of HIV and AIDS. The red ribbon was originally intended to be worn as a badge, but is now used in a wide variety of ways.
Leader of Myanmar's National League for Democracy, Aung San Suu Kyi spent almost 15 years under house arrest between 1989-2010 due to her opposition to the country's military rulers. In 2012, the Burmese politician was named by the UN as a Global Advocate for Zero Discrimination in its continuing fight against discrimination and stigma of people living with HIV.
"Respect for the human rights of people living with HIV must be promoted," Aung San Suu Kyi said earlier this year. "We also need to protect the people who live on the fringes of society who struggle every day to maintain their dignity and basic human rights. I believe that with true compassion—the invisible cord that binds us to other human beings regardless of race, personal status, religion and national borders—we can get results for all people."
I'm sure you will all agree this last paragraph really hits home for what KAS stands for and is shown by all the beautiful work each and every one of you contributes.
So, how are we going to incorporate this into Decembers Challenge?
RED, RED AND MORE RED!!
Red squares, perfect for Plain Janes, fancy squares with red somewhere within the pattern, squares with a red ribbon (Pam has said this is OK, no stigma).
So, quite simply, RED is the aim of this challenge. I know you will come up with some brilliant ideas to get the colour red into a square, but don't forget, Plain Jane red squares are also just as important so please don't feel intimidated if you cannot do fancy patterns,
EVERY square really is equally important and desperately needed for the children
Remember;  HAVE FUN
Here are some photos of landmarks that turned red for 2011 World Aids Day
Table Mountain, South Africa
Niagara Falls, NY
Sydney Opera House, Australia
The London Eye, UK
Empire State Building, New York, USA
So, lets make this RED challenge just as much fun,
but I bet we can make some masterpieces of our own!!!
Here is the album featuring all of the wonderful Red squares http://forum.knit-a-square.com/photo/albums/december-2013-challenge-its-a-red-month